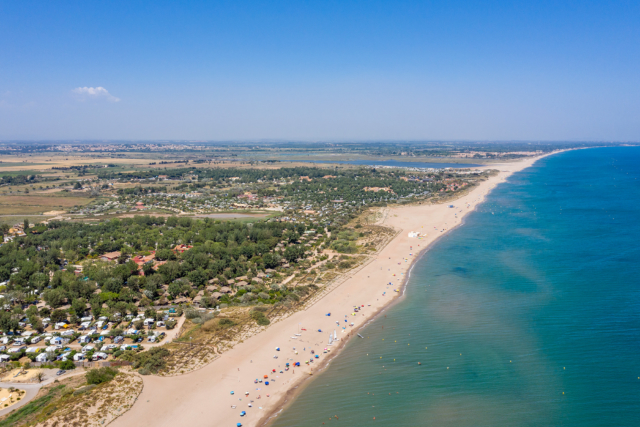 Customer reviews

Sarah – Dublin
"It was great. We all enjoyed it. There were lots of options if things to do, helpful staff and relaxed atmosphere."
Sarah – Larzac
"Excellent !!Looking forward to next year!!"
Steve – Exmouth
"Lovely site! Clean, brilliant facilities. Wonderful staff"
Patricia – Condom
"Serignan Plage is a top-notch campsit, conveniently placed in a beautiful area. We have stayed there about six times now, first camping in a tent and, more recently, in our…"
Adam – Tournefeuille
"Great site, this was our second time coming this summer. Facilities are excellent and staff are very good"
Robin – Winscombe
"Another great time at Serignon Plage. We always enjoy the naturist balneo in the morning."
Inma – Sant Boi Llobregat
Roy – Lincoln
"Once again yelloh village leaves nothing to chance everything to a excellen to a excellent standard"
Andrew – Shipley
"Absolutely loved it. Have been before when out children were small but that was over 15 years ago. Accommadation very impressive and spotlessley clean. Great having the bikes…."
Siobhan – Dublin
"Fabrice was the name of the guy who brought us to our cabin – he was so helpful and welcoming! The checkin experience was so chilled out and easy it really showed the difference…"
Chris – Southampton
"Perfect camping site. Great facilities, Great entertainment, Great beach."
Eleanor – London
"Exceeded expectations! What a wonderful place – the perfect family holiday."
Susan – Nafferton Driffield
"Enjoyed our stay .Very helpful and friendly staff The chalets well equipped and clean The site and garden spaces are well maintained"
Michala – Fareham
"Serignan Plage was so fantastic that we intend to visit again next year."
Caroline – Middlesex
"Great facilities and location"
Ian – Norton
"We really enjoyed it, plenty to do really enjoyed the peace and quiet of the Balneo"
Steve – Rochdale
"ON ARRIVAL INFORMATION WAS GOOD, SHORT WAIT FOR PITCH. PITCH WAS A BIT TIRED ALTHOUGH THIS WAS TIDIED UP IN SECOND WEEK. TOILETS AND SHOWERS WERE CLEAN IF NOT A BIT OVERCROWDED…."
Graham – Chester
"The site itself is perfect. Brilliant slide area, lovely pool, friendly staff and the best entertainment that I've ever seen in a campsite. The restaurants and takeaway are…"
Mike – Higham Ferrers
"From arrival to departure it was an amazing stay, check in was easy and clear and very informative"
Chris – Hassocks
"Very clean site, shops were expensive"
Andrew – St Albans
"Serignan is very well organised. We have to take our holidays at peak periods, and yet the park manages to remain comfortable even when at its busiest. The staff members are…"
Theresa – Weston Super Mare
"We have stayed at Serignan 6 times previously and we have seen the site grow and evolve. Which is great especially when children are growing up and you need different activities…"
Lenny – Daux
"Very good campsite, Close to Toulouse. Direct Access to beach. Well stocked Supermarket albeit slightly expensive but a big Supermarket 10 mins from campsite if you Need bulk…"
Yannick – Bromley
"This was our second time at Serignan Plage. We saw a lot of improvements and overall have been delighted with our stay. The new slides are great for our children and the kids…"
Gemma – Brentwood
"Overall a fun, clean campsite with amazing shows, great water park, fantastic arts & crafts and good access to beach"
Cameron – Pontypridd
"We have stayed many times over the years and as usual we had a great time. The staff are all friendly and the site is always clean and well maintained."
Isabelle – Ravenna
"The pitch is large, well maintained, services are improving, overall a great camping"
Horan – Galway
"Fantastic campsite. Every facility required was onsite. The campsite is extremely clean and well run. The pool area was great although the grassy area could be updated to…"
Lucy – Bromley
"Amazing paradise for small children and families"
Angela – Basingstoke
"We loved the site, appreciated the improvements on our visit 3 years ago. Loved the Robinson accommodation. The only issue was the timing of the evening entertainment, too late…"
Robin – Wolverhampton
"We have been coming to Serignan Plage for 15 years, initially with Eurocamp, then Al Fresco and finally with Yelloh for the last 5 years where we have stayed in a cabane close to…"
Jo – Reigate
"Mostly excellent. We were just a little disappointed to have no sun at all at our cabin CP10 as there were too many trees."
Christopher – Amersham
"Very good facilities and the Robinson cabin was great, but noisier and less clean than last year"
Alun – Cardiff
"Fantastic facilities- amazing stay. Mobile homes wonderful"
James – Chislehurst
"Really like the campsite. The facilities are very good."
Emma – Fonsorbes
"Excellent holiday as always! From the beach to the pool slides, from the shows to the cabin, everything was just what we were looking for."
Elaine – Harrogate
"Everything was really good, would have been ten if the beds were more comfortable and entertainment starting at 9 rather than 930"
Daniel – Matlock
"Very welcoming staff and beautiful kept surroundings. I have had my best ever holiday at Serignan-Plage."
John – Beckenham
"A fantastic 2 week holiday, relaxed and friendly site with a great pool & slides plus a stunning beach. We loved it."
Sian – High Wycombe
"We were very pleased with everything the site had to offer. Very clean. Lots to do. All we needed without having to leave the site."
Kevin – Lydney
"Great pitch. Great shops."
Timothy – Harpenden
"A consistently good experience, which is clearly being improved on every year"
David – Dunsfold
"Very comfortable and well cared for camping. All staff friendly, helpful and polite."
Tom – London
"It was our second stay at Serignan Plage, and we'll be booking a third. We love everything about it."
Rachel – St Nicholas
"A lovely site with great facilities for the children. The shops were well stocked and convenient. The bikes were a nice touch. The water slides both big and small among the best…"
Fiona – Hemel Hempstead
"We had a brilliant time, the campsite is beautifully maintained, accommodation exceptionally clean, staff all lovely, great facilities and very good entertainment in the evenings…."
Paul – Mold
"Overall a very enjoyable stay with very good clean facilities. The direct access to the beach was excellent."
Therese – Maynooth
"This is a fantastic park, well maintained with great amenities."
Stephen – Weybridge
"Beautiful campsite, immaculately clean. Very friendly staff."
Sarah – Bath
"Great holiday park. Brilliant facilities and really well taken care of. Amazing beach and the swimming pool complex was great. So many play parks to choose from we wished we could…"
Ian – Solihull
"Fourth year of our summer holiday at Serignan Plage. We felt that the entertainment had dramatically worsened with far fewer bands in the upstairs bar, less outside entertainment…"
Katharine – Wimborne
"Kids enjoyed the activities was disappointed we couldn't go to the bolero together as our youngest is just under 4 so couldn't do any of the activities"
Nicholas – Thetford
"Love it booked again next year it will be are 3rd time"
Alexander – Aldershot
"Lively site and amenities"
Corinna – London
"Absolutely fantastic experience, from the quality of the entertainment to the wonderful accomodation and location. Loved it. Brilliant for all the family."
Louise – Westcliff-on-sea
"Clean well kept great staff"
Valerie – Exeter
"Approachable friendly staff and wonderful location for families. Accommodation was ready earlier than expected and I was telephoned to collect key."
Nadia – London
"Fantastic holidays – you can't find a better campsite !"
Sarah – Penarth
"The campsite facilities were fantastic and we had a great time"
Kerry – Andover
"We had a fantastic time!"
Andreea – Geneva
"We enjoyed very much the mobile home (though a bit small), the nature around the mobile homes, the team of entertainment. Staff was smiling and v helpful."
Julie – Glasgow
"fantastic experience, loved it"
Pippa – Oxted
"Great for kids, very easy holiday. Very busy but didn't feel like an issue as lots of space and different things to do."
James – Winbeldon
"Despite booking our pitch many months in advance we were given a corner plot on the main road through the campsite and right next to the main rubbish processing plant. Constant…"
David – Dublin
"The best Yelloh site yet (No. 5)"
Lisa – Welwyn
"KP45T could do with some attention. Bike breaks, kitchen sink leaked, shower valve was tricky, in the rain a solid veranda roof would be good. My son slipped on the wet decking &…"
Fiona – Leopardstown Heights
"Super, shows on a little late!"
Darryl – Lechlade
"Absolutely loved everything about Serignan Plage. We have booked to come back in 2020. The camping facilities were amazing as were all the facilities. So clean and all the staff…"
Emma – Winchester
"Very happy with variety of activities, and position"
Daniel – Coventry
"2nd time of staying at Serignan Plage, and loved it again. No complaints at all!"
Joanne – Maldon
"Very good but Balneo facility should be a pass per adult not accomodation. My two teenage daughters could not attend with us as a family"
Paul – Bourne
"Serignan Plage Village is a lively resort which is generally well maintained and well appointed with essential services. The minimarket was not over priced and, although not…"
Charlie – Folkestone
"Great site. It Pharrell Ouest pitches are exposed to the heat and the wind."
Jenny – Kildare
"Our 3rd time back and we will definitely be back again.We love Yelloh Village Serginan Plage as it gives the best of both worlds with the Beach and the Pools.We also love the feel…"
Rosemary Anne – Daventry
"The pitch had beeen improved with all services grouped together. This is a great advantage to caravaners in particular."
Kellie – Leysin
"We loved the ease of it…and the bikes to get around! The kids were in heaven!"
Kenneth – Edinburgh
"We had a lovely holiday, 4th time at SP, beautiful place. Lovely staff, do appreciate the effort that has gone into making it a beautiful place"
William – York
"As a client for about 30 years we have noticed continuous improvement in the standards of tidiness and cleanliness of the site. One point of major concern is the narrowness of the…"
Steven – Edinburgh
"Superb! Everything was absolutely perfect."
John – Dublin
"Very positive and enjoyable campsite"
Colin – Kent
"Sorry but it wasn't very good, where we were situated p71 , far too much noise from people coming in on rivers of the beach up until four, with we think very little…"
Paul – Paisley
"This was our 5th time at Yelloh Village Serihnan Plage and again it was very good and we enjoyed our stay."
Lorraine – Brayton Pk
"Very nice stay but very expensive holiday."
Kerry – Axbridge
"Very relaxing & plenty to do"
Dominique – Lyon
"Very nice campsite, great entertainment and good shops"
Paul – Tullyallen
"Another lovely vacation with many happy memories."
Jason – Murrieta
"There was a well-planned activity schedule for both children and adults."
Robert – Thetford
"Wonderful stay as always improvements have been made and it hasn't spoiled the village"
James – Dublin
"Positives. The pools and slides were fantastic. You always are able to get sun beds when needed. The shows were amazing. The restaurants were lovely and the rooftop cocktail bar…"
Kathryn – Glasgow
"Brilliant resort with so much for the kids to do plus the lovely Balneo area. Beach and main square also great. Beautiful grounds with lots of lovely flowers."
Lesley – Darlington
"Friendly and helpful staff"
Michael – Dublin
"Overall third time in Le Sérignan Plage. I think the entertainment offering has room for improvement. A lot of repeat performances from animation team – they need to add more…"
Colin – Kirkcaldy
"Amazing place, loved everything about the site."
Emma – Basingstoke
"We love the site, the staff are friendly, the site is very well maintained and works very well for us with our autistic son. Every year the site gets better and better and we are…"
John – Brentwood
"Camping has kept its overall high standards, the staff were very friendly and attentive. The welcome pack was a great addition to the start of our holiday which cut down the…"
Leonard – Evesham
"Everything very good. Stunning location. Everything you will need on hand. Pitch excellent. Could benefit from better signage and lighting could better on pathways."
Lisa – Limerick
"We really loved every minute of our holiday. The only small complaint we had was how rude Tiffany was in the restaurant the night before we left. We hope to be back next year &…"
Caitriona – Wicklow
"Everything excellent except for the food"
Brian – Askeaton
"Second visit. Will be back! On rentrera !"
Melanie – Cardiff
"Pool and facilities are perfect. Lots of well maintained areas to sit and relax. Evening entertainment is too loud, it disturbed our sleep"
Jochen – Rotkreuz
"very nice village with all you need during your stayAt check-in a bit of mixup because I assumed to get the discover Languedoc package but another package was actually chosen by…"