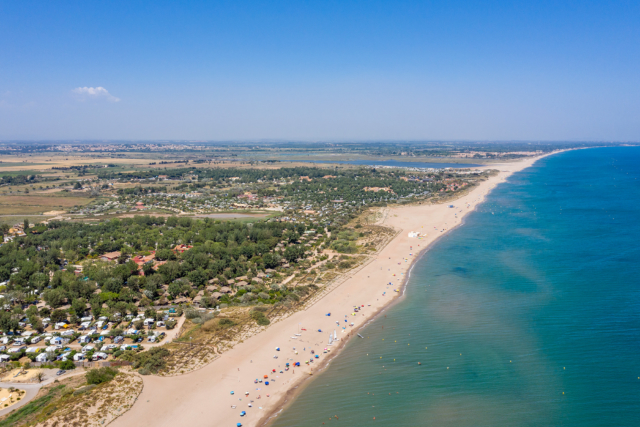 Customer reviews

Duncan – Colchester
"Enjoyable stay.excellent facilities. Could do with a bit of TLC and a lick of paint in some areas"
Robert – Thetford
"It has always been an amazing place to stay so unspoiled comfortable and everything you could want for a relaxing holiday"
Stephen – Greystones
"Love serignan place, all the staff are so lovely, friendly and helpful."
Robert – Basingstoke
"We have stayed several times using different companies Yelloh, Eurocamp,Canvas and always enjoyed the site. This time it did not feel so well rin"
Keith – Nottingham
"Excellent will be back next year"
Manuel – Karlsruhe
"This was our third stay at a Yelloh village and our second in Sérignan, and we would return any time. We appreciate the location, the infrastructure, the friendly staff and the…"
Barry – Windsor
"Excellent stay in my favourite campsite. He have continued to use Serignan Plage even though our children no longer holiday with us due to the excellent facilities, activities and…"
Ian – Gloucester
"Had a great time, very clean site."
Paul – York
"We loved the site, and had a great holiday"
Amy – Penarth
"Fantastic campsite with wonderful facilities! Clean, attractive gardens, super pool area and restaurants."
Siobhan – Argelaguer
"Bad luck with the weather, but we had a wonderful stay."
Sophie – Peisey Nancroix
"Lovely campsite. We had a great holiday."
Alistair – Bromsgrove
"We have had the best holiday, the camp is brilliant and we said there really isn't anything we would have changed"
Emma – Huddersfield
"Fabulous visit, clean site, lots to do and great for the kids."
Emily – Annecy
"This was our second stay at Serignan Plage and it did not disappoint. We stayed in the brand new tente tennis area and we loved it! Though it was a bit difficult keeping the sand…"
Sarah-Louise – Dorking
"We were in a tent , pretty but very noisy with young children crying also very hot and hard to sleep , pools wry busy also hard to find laundrette and opening abs closing times…"
Fergus – London
"it was a great stay. the boys really enjoyed the junior club, and being in the show. the only bad thing was that our site was noisy, so we moved, but the new site was next to a…"
Jillian – Dublin
"Fantastic accomodation, spotlessly clean, great pools, great access to the beach, great shop and bakery"
Dowdells – Milton Malsor
"The stay overall was very good but was let down by the staff members working in the pizza takeaway at the Balneo and the lady server in the pizza takeaway near the main stage…."
Rachel – Windsor
"The only reason this is not 10 is because I felt the mattress on the bed was poor quality for my back."
Wojciech – Lozina
"Excellent camping with fantastic swimming pools and awesome evening shows"
Roy – London
"Everything went very well from arrival to departure with staff approachable and helpful."
Stefano – St Jean Maurienne
"The camping is really fantastic. I stayed just one night with two kids. The big problem was the lack of silence during the night. Music and shouting from the neighbours was very…"
Sheila – Den Haag
"We loved the quality of the facilities, especially food shops. Also Balneo in combination with wonderful naturist beach. We camped 3 flowers in Phare Ouest but thought the pitch…"
Diamondra – Narbonne
"It was our first time, and it won't be the last, we ll definitely return back, kids really enjoyed to have the sea and the pool at the same place, plus the waterslide which was…"
Carolyn – Serviers Et Labaume
"We have been coming to Serrlignan Plage every year since 2005 and it gets better every year."
Milan – Bertrange
"well organised, sufficiently equipped, variety of type of mobilehomes"