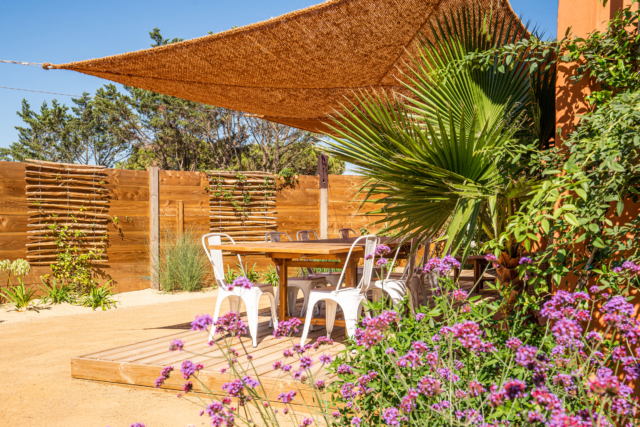 Coworking
Our Coworking Space
The Coworking Space of Sérignan Plage Nature

THE ULTIMATE GET-AWAY WHILE YOU WORK AWAY
A place where Work
and Chill combine!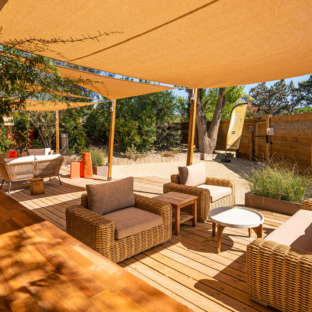 Get all your work done and enjoy some fun in the sun!
Welcome to our campsite, Sérignan Plage. Here, our coworking space is much more than your standard office. It is a place where you can let your productivity thrive in an exceptional spot. Whether you are a digital nomad seeking inspiration, or a dynamic team looking to create some synergy, our goal is to offer a space where work, play, and connection combine.
Get ready to discover a network of coworking spots that redefine the term "professional experience".
Cowoliday is the first ever network of coworking spaces located in holiday destination spots. Ever dreamt of trading the four walls of your office for a unique, serene location to get your productive juices flowing? At Cowoliday, we make that dream come true. Our network offers guests the chance to bring their briefcase to an idyllic holiday spot, such as Sérignan Plage. Our coworking spaces have been especially designed to create the perfect balance between work time and leisure time.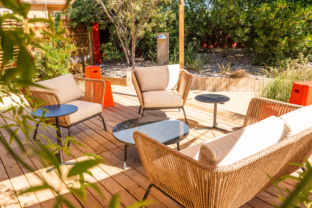 In this unique space, holidaymakers-cum-remote workers can enjoy the benefits of a professional environment designed to meet every requirement, where their well-being as well as their productivity are our top priority. Throw out your daily work routine and try something new. Make the most of the perfect marriage between working and relaxing, and discover a whole new dimension to your productivity level. Come and join us now and let your creative juices flow in these divine, sublime spots.
Let Cowoliday transform your standard working day!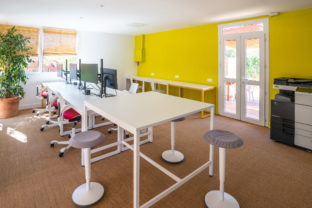 Open every day of the week, from 7 am to 10 pm, our coworking space will surround you in a welcoming, inspiring glow. Let the tranquillity of this spot seep in, and enjoy our modern facilities, such as sound-proof cabins for optimal concentration, and our high-speed Wi-Fi. Whether you plan on working solo or as a team, our establishment provides tailor-made spots to help you get stuck into your projects.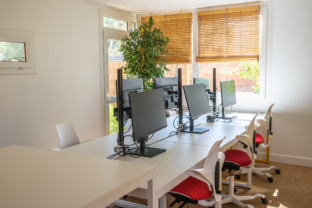 A specially-designed
installation for your Workations* in Sérignan!
27-inch screens
A private, secure Wi-Fi network
Ergonomic seating options
Meeting tables
Sound-proof pods
Lounge Area
Outside Area
A SPECIAL EXPERIENCE WHETHER YOU ARE HOLIDAYING SOLO, AS A TEAM OR WITH YOUR FAMILY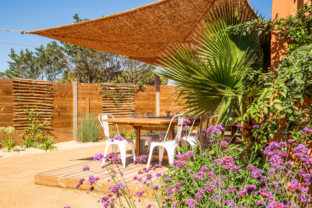 Holidaying solo: Delve into this unique spot designed especially for you and all your remote working needs, and take a rewarding walk along the seashore when the work is done.
Holidaying as a team: going on holiday with your team is the best way to combine teamwork and work-work. Bring your team even closer together by booking a stay for a few days at Sérignan Plage.
Holidaying as a family: seize the opportunity to reconcile your work-day with your family holiday and spend more time with your loved ones.
You deserve a break after all that hard work!